Hi all,
Hope everyone's doing well. This is my 3rd consecutive post in my series for educating the RLY community about the main components of RLY.
As SuperLayer develops, I aim to continuously update this post for the benefit of all.
Thanks so much for your comments @KevinChou on the last post about Unite.io. Cleared up my questions very well! Credit also goes to @KevinChou for the pictures used regarding the budget and concept diagram.
Summary
SuperLayer Labs is a venture studio aimed at supporting the launch of new tokenized consumer products leveraging the $RLY protocol and network. It is building a community creating transformative web3 experiences that democratize opportunity and ownership of the internet.
Project
As SuperLayer is a studio, this means it hires new staff with backgrounds in engineering, product, and legal/finance to build new products on $RLY. The new products are entirely new ideas for creating social tokens and games that do not necessarily have anything to do with creators. The $RLY technology is now becoming more robust and can support other social use cases besides creators and fan communities, and SuperLayer is going to take the lead to build some of these new products. SuperLayer hopes to inspire others to build wholly new products on $RLY, and the DAO can help fund others who have promising ideas and teams. Further, other projects in Superlayer will be using the $RLY token, creating a positive feedback loop within the RLY Network and increasing the value of the token.
The RLY Association has taken the protocol the managing team built on Forte, rebuilt several pieces to put the smart contracts on Layer 1 (L1) directly, and SuperLayer's first product will be released on top of this technology.
All applications that are built on top of the RLY protocol are eligible for network rewards! Currently, the RLY protocol supports 1st party applications (Rally.io & Rally Asia's project) and 2nd party applications (SuperLayer incubated projects) with plans to support 3rd party applications in the future.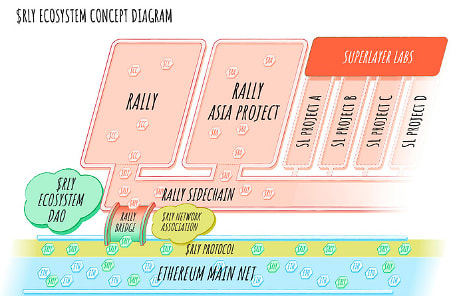 Decentralisation Plans
SuperLayer's debut comes as Rally community members debate the ecosystem's decentralization plan.
On August 18, Kevin Chou, Managing Partner, put forward a proposal which was voted on, on August 25th, as seen below. 100% of votes from community members voted to split the ecosystem five-fold – into a decentralized autonomous organization (DAO), a venture studio, a nonprofit, an affiliate and a corporation.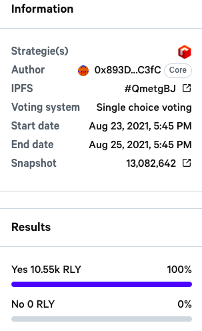 Team
@KevinChou KevinChou, Managing Partner, is a serial founder and has launched multiple start-ups in the gaming and crypto space, including three with valuations estimated at >$1B (Rally, Forte and Kabam). Kevin will partner with developers to build new applications and venture-fundable businesses leveraging the $RLY protocol.
Mahesh Vellanki, also Managing Partner of SuperLayer Labs, has previously served as Co-Founder and Head of Growth for Rally, as well as co-founding Forte and was VC at Redpoint Ventures leading investments in the consumer internet space.
@GaryCoover GaryCoover, Prior to joining SuperLayer, Gary spent 8 years at Samsung Next (software and services innovation arm for Samsung Electronics) launching new investment vehicles (Accelerator, EIR program, venture fund) and locations (Tel Aviv and Berlin). Gary also served as the Ventures Operating Managing Director (ops for Venture arm including internal software development, venture platform and ecosystem) and Silicon Valley GM (local COO). Further, Gary is also an active angel investor, startup advisor and non-profit board member/advisor for the SF Giants Community Fund, La Casa de Las Madres, LT Murray Foundation, and HBM Oncology Foundation.
Prior to General Council of SUperLayer, @ira was General Council of Rally, leading the legal operations for the Rally Network. Ira was also part of Forte, as a strategic legal advisor most recently, but also as a General Council. As well as being General Council for HouseCanary and Kabam. And, a Board Member for Video Game Bar Association and previously held positions at large firms such as Sony, Williams-Sonoma, Wilson Sonsini Goodrich & Rosati and Cleary Gottlieb Steen & Hamilton LLP.
Process for Founders
SuperLayer Labs join as a founding Project Manager to lead a new project and develop the product vision and roadmap.

Founders work closely with SuperLayer Labs to develop your product vision, economy design and roadmap.

SuperLayer funds your seed round, provides development resources, expertise and infrastructure for public beta launches and tests.

After you launch to the market and raise an outside Series A from industry-leading crypto investors to fuel your future success, you leave the SuperLayer studio and continue to leverage the SuperLayer team and resources as jet fuel for the entirety of your journey.
Objectives:
Launch ~12–15 independent businesses built on top of the $RLY protocol, over the next two years, facilitating their launch, staffing, go-to-market, compliance and fundraising with RLY's capital, resources, networks, experience and expertise.

Focus on creating products and services that will attract and support the next 100 million consumers, creators, and communities using crypto.

Raise outside capital for these independent businesses once the products find product-market-fit that can attract independent venture investors.

Provide returns to the $RLY community treasury through its incubated projects.
Business Model:
SuperLayer Labs incubates projects alongside founding management teams. The venture studio will be structured to enable the aggregation of capital from multiple sources, with a focus on both strategic and financial investors. For example, Marc Andreessen and Chris Dixon, both general partners at longtime Rally backer Andreessen Horowitz (a16z), are among the investors in SuperLayer Labs, the new startup accelerator seeding independent consumer Web 3 projects that utilize Rally's RLY token.
The $RLY community will receive a return on the capital that it invests through the community treasury as outlined in the budget below.

The $RLY community will have the opportunity to participate in up to 25M $USDC in new venture investments that SuperLayer leads. These investments will be in projects and companies that will build on the Rally ecosystem focused on network and community growth initiatives.
Additionally, the $RLY community will have the opportunity to provide a 20M $USDC credit facility to SuperLayer at a five percent (5%) annual interest rate payable annually with a loan term of thirty-six (36) months from the date of tranche draw. The credit facility will be drawn in tranches of 5M $USDC with the first tranche released to SuperLayer within five (5) days from the date of approval of the proposal. Each subsequent tranche will be released upon request by SuperLayer. The request will be made to the Community Treasury Manager and will be payable within five (5) days of receipt.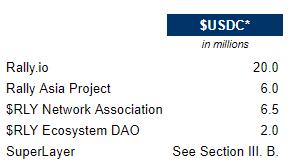 SuperLayer Labs will utilize a General Partner/Limited Partner structure that will enable the aggregation of capital from multiple sources that are interested in becoming a part of the future growth of the $RLY protocol.
Summary
As noted above, the initial investment made through the $RLY community treasury to SuperLayer will (i) fund the operations of the project, and (ii) form the first portion of the investment fund through which, as a Limited Partner, the $RLY community treasury will receive a return on the capital invested.