Hi all,
This is my second post on the forum. I aim to create posts to consolidate information on different Rally projects for newbies/inactive people. It's a great way to increase knowledge and discussion.
Info is collated from previous forum posts, our website and discord.
Intro
This piece uncovers Unite.io, Rally.io's Asian expansion. I provide an overview of Unite.io, the main team players spearheading the expansion, the Asian opportunity and queries regarding the regulation of social tokens as capital markets products. As well as raising further questions which need to be further researched.
Overview
RLYs Asian Project is named Unite.io. Unite is an open network that enables creators to launch vibrant and independent economies with their communities powered by the Ethereum blockchain. It is the revolution of the interactions between creators and their fanbases powered by decentralized technology, in Asia, for Asia.
Although Unite.io and Rally.io are different applications on top of the Rally Network, the Asia project will be distinct but based on the same $RLY token and network. Unite.io supports creators and fans in Asia, and Rally.io supports creators and fans outside of Asia.
Like Rally, Unite offers anyone with an online community the ability to launch their own coin without the complexity of coding on the Ethereum blockchain. Unite is, similarly, a decentralized platform completely governed by the community. This means that creators and their communities have unfettered control to use their social tokens across all social platforms.
Team
Currently, Unite is in its early stages with a small team.
Robb Spitzer is to lead Rally's international expansion. As @kevin.chou put well, Robb has deep experience from executive and leadership roles at companies like Tabuan Group, AEG Presents, Live Nation, Radical Media, Ticketmaster and 247tickets. Robb has been able to define and execute strategies for live music, festivals, sports and digital media experiences around the world. Part of his expertise stems from his understanding of the international entertainment industry, including cultural nuances for content and entertainment consumption in each territory across Asia, India and the Middle East. He has led diverse, cross-functional teams working with superstar artists like Ed Sheeran, Shawn Mendes, Beyoncé, Katy Perry, Maroon 5, Coldplay, Sam Smith, BIG BANG and Imagine Dragons to connect them meaningfully with their worldwide fan base.
As well as WeiWei Geng, who will be the head of the Rally business in Asia, driving the expansion of the platform into regional markets. Previously, WeiWei served as Managing Director China at Gen.G, a leading esports organization with top teams in China, South Korea, and the US. As one of the founding team members, Weiwei built the company's business in China from scratch, growing the revenue by over 10 times in less than 2 years.
Business Model and Financials
Unite.io ensures creators own 100% of their tokens and a potential transaction fee structure will be utilized (not finalised) to enable the sustainability of the project. Currently, the total budget to carry Unite.io over to the end of 2022 is $17.5m, 20% of the overall budget, which also includes Rally.io, RLY Network Association and $RLY Ecosystem DAO.

The budget will be released in 5 separate tranches. The first tranche, upon approval of the proposal, will release $6m to Unite.io.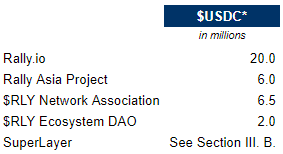 Then for every subsequent tranche, like every other Rally.io project, Unite.io will submit requests for additional tranches on a quarterly basis by the submission deadline. Unite.io will have to provide a detailed forecast for the following quarter, outlining the funding request for the quarterly tranche and most recent KPIs as requested by the $RLY Network Association.

This funding will continue to expand and decentralise Rally.io, one of their many goals as a social token platform.
Asian Opportunity
Expanding Rally's international footprint will allow creators to build larger fan bases and position Rally as a global leader for new web3-enabled creative and community engagements.
But Asia offers some of the best opportunities for growth. With two-thirds of the world population, vibrant cultures with strong creative forces, high levels of digital engagement and transactions, and regulatory environments that are favourable to the types of social tokens and NFTs we provide.
Unite.io's aims to grow to 10 countries: Hong Kong, Taiwan, Singapore, Japan, Korea, Philippines, Indonesia, Malaysia, Thailand and Vietnam. Note, not China.
Will Creator Coins be regulated?
Different countries have different capital market product laws. But a key differentiation to make is that Creator Coins are utility tokens that essentially represent one's fandom in relation to the Creator. Importantly, these digital tokens do not have any characteristics similar to shares where you can vote in a company, appoint directors or receive dividends. Or even bonds where you receive interest from the party you loaned money to, or a covenant that has a set of rules both/either parties need to abide by.
Unite.io serves as a user interface for users of the decentralised $RLY network, it doesn't facilitate trading between fiat currency to cryptocurrency, or cryptocurrency to cryptocurrency. Such transactions are carried out via third party entities or platforms, for example, exchanges and decentralised protocols, and therefore not by Unite.io itself. Neither does Unite.io control any users currency of any sort. There will be differences in experience according to user needs and local regulations.
None of this is legal advice. It's only intended for educational purposes.
Questions
Will the distribution of Rally come from the existing pool, or will there be an expanded (new token minting) pool to support Asia?
How will Rally and Unite navigate regulatory pressures in different regions within Asia regarding creator coins being deemed as capital market products and/or platform regulations?
What's the go-to-market strategy for such goals?
Why is Unite.io not expanding into China?