Title: PROPOSAL: Creaticles - Request Custom NFTs from your community and ours
Description: Creaticles is a platform that helps you source art for your NFTs. All you need is an idea to get started and Creaticles handles everything from there. We have a vibrant artist community and a seamless all in one platform which handles uploading of artwork, selection and minting.
Manifesto/Vision: The vision of our platform is to optimize our platform to better serve the $RLY community and foster the creation of community driven NFT contests. $RLY focuses on micro communities with decentralized fan support of influencers and creators; our platform Creaticles is the perfect platform for creators on $RLY to source NFTs and galvanize community support.
Problem:
Influencers, brands and others have no platform to request custom NFTs within the $RLY network. Users can create NFTs by themselves but there is no crowdsourced creation mechanism.
Solution:
Creaticles is a platform that already exists and enables this. What we would like to do is to enable this to function specifically for the $RLY ecosystem. We would like to support $RLY tokens as reward distributions as well has have the NFT seamlessly integrate with Rally's NFT platform. We would like to hold contests with RallyDAO itself as well as creators/influencers across the $RLY community
Product:
Technical Integration
As RLY is an ERC-20 token, we can simply add it to our site as we support ERC-20 standard tokens.
Differentiation:
Currently there exists no web 3.0 product like ours, as there is no other way to community source artwork for NFTs using a single platform. There exists platforms like Fiverr where you can source artwork, but it is not designed specifically for the creation of NFTs nor does it contain the contest element.
Progress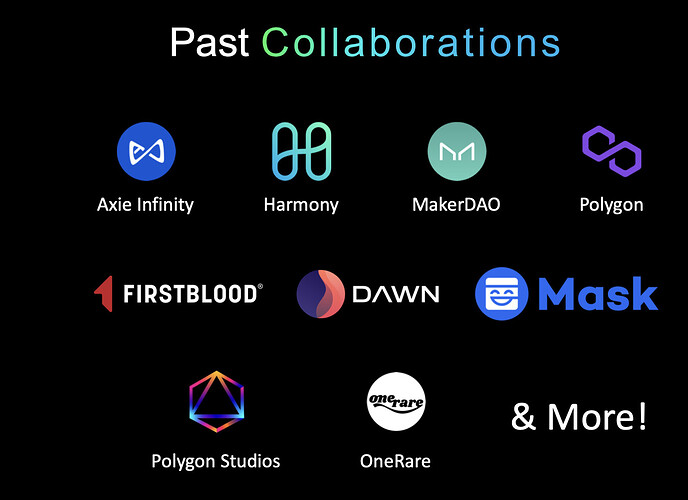 Creaticles is live and functioning, with contests with amazing partners including Axie Infinity, MakerDAO, Polygon and more. We have garnered over 20k followers on TG and Twitter individually with over 600 unique registered artists.
Our biggest contest to date with Axie Infinity had 961 submissions and the winner creating an impressive video using 3D artwork:
Differentiation
Team:
Trevor Keith: CTO
Graduate from MIT, over 10 years of experience in Software Engineering at companies including Ericsson and IBM.
James Parker: Head of Business Development
Graduate from UC Berkeley, over 5 years of experience in the blockchain industry in Business Development covering APAC, Europe and USA.
Diderik van der Graaf: Head of Marketing
Over 15 years of experience in marketing and SEO , previously creating his own successful marketing consultancy venture as well as working at Google.
Grant Request $50000
Funds:
We plan on using these funds for the following purposes
Marketing: We want to make the biggest splash possible with $RLY as our partner, with the bulk of the budget being spent on marketing.
With this budget, we would like to create multiple contests with RallyDAO as well as creators/influencers that are part of the $RLY ecosystem. This budget will be used to sponsor contests to provide prize money for creators, (ex: the winner of the contest will receive 5000 RLY).
The budget would also be used for PR announcements and promotion via social media.
Technology: The budget will be used to pay for programming resources needed to integrate RLY token into our site as well as website modifications and integration with the first party Rally NFT platform.
Additional Resources:
Documentation/Gitbook: https://docs.creaticles.com/