flexin rewards
title
flexin rewards
description
flexin, inc a delaware c-corp transitioning from a traditional web-based SaaS model to an innovative web3 model that is pioneering a new form of athletic skill development called move2earn. as in, for people across the planet who are seeking to develop their athleticism we are giving them cause to do it.
vision
making impossible skills possible
autotelic activity is the ultimate reward
by participating in flexin's move2earn program the participants will be rewarded with a new path in life that leads to longevity, vitality, and balance. they will have new physical skills and hobbies that they pursue merely for the pleasure of doing them.
problem
two kinds of activity
instrumental activity aims at a specific end product: a carpenter builds in order to produce a house, and a painter's brushstrokes are directed toward a completed painting.
autotelic activity, by contrast, is pursued for its own sake, often with a sense of internal purpose: the goal of the dancer is to dance. Autotelic activities include those pursued in the spirit of play, such as games which ignite energy and personal passion.
rewarding instrumental activity
the perception of athleticism is the result of accumulating many skills and strengths. in the existing work at flexin we have started with a single focus - handstands. this project will reward people for attempting handstands. for each attempt a participant will receive rewards from the RLY ecosystem which can then be redeemed for IRL fitness equipment. RLY is the way that flexin becomes a rewards hub for fitness skill development.
solution
we have a working model of an athlete uploading video of fitness and a professional reviewing that video. we have a team of engineers, designers, and branders that are behind-the-screens developing the next iteration of the product. rally is core to what comes next.
during our successful first marketing campaign our flexin sponsored athlete kp the specimen cruz promoted a challenge on his instagram. who could do a good handstand? followers dm'ed him video of themselves doing handstands. he selected a winner. winner receives fitness equipment.
product
www[dot]flexin[dot]io
our next round of development with rally means that we are doing the same successful challenge and instead rewarding in rally. the winner can decide which fitness equipment they want. our next round with rally means that we are issuing the challenge from simonster, the world's greatest break dancer, who has 590,000 instagram followers.
our round after that will issue challenge from Georges St-Pierre, the famous mma fighter, to his 4.8 million instagram followers.
technical integration
flexin exercise recognition
using flexin's API as an oracle it is possible to automatically show the participants their performance in the exercise for the exercises below. they will be rewarded for higher performance. for example, a handstand is scored based on the straightness of the body, determined by the angles of joints. those persons whose body is the most straight, whose joints are closest to 180 degrees, are rewarded highest.
curls
squats
lateral raises
lateral lunges
push ups
knee push ups
pull ups
superman
side planks
plank leg raises
dolphin planks
up and down planks
shoulder taps
dog taps
knee drive
stretch to crunch
side knee
side bend
timeline
summer 2022
validation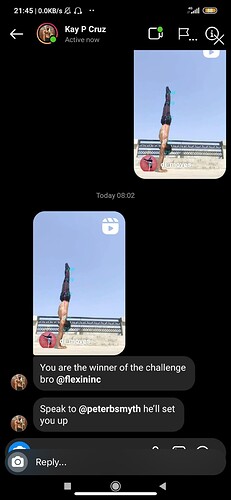 (prevented from showing additional validation because of the rule that new users can only include one embedded media in a post)
progress
currently we have a functioning web 2.0 project. our co-founder peter smith, recently having sold his blockchain dev shop, is actively working to integrate the RLY concepts into the existing product plans.
differentiation
we focus on the hardest possible skills that humans can perform
simonster's athleticism
believing is seeing
physical skills are visible. it is not easy to keep going with one's own self-discipline. we make it easier for a participant to believe in themselves by allowing them to see their progress. beyond that, we reward their progress with the move2earn mechanism.
team
peter b smith - founder
simon "simonster" ata - co-founder
angel santiago - co-founder
jodi mcdonald - head of operations
kp "the specimen" cruz - first sponsored athlete
grant request
50,000 USD equivalents
funds usage
we will use funds to reward participation and progression
help
additional resources