Proposal for developer grant for $GARY
The foundation behind a creator coin is the community of supporters. Without multiple channels to build relationships and community with our supporters, we will never reach our full potential as a creator. Rally currently has a coin holder dashboard and a discord coin bot. This doesn't provide adequate communication for creators and is greatly limiting the overall platform growth.
As an innovator and creator at Rally, I quickly identified this gap and have started to build use cases to overcome this current limitation using smart technology with the integration of the Rally API.
Primarily connecting coin supporters to social audio and CRM tools.
Currently Functioning MVP's
Apple Pass:
We built an apple pass that connects to RLY with your wallet so your coin holders can have their balance in their wallets. We also have a built-in notification engine to send notifications to Apple devices.
Clubhouse Coin Bot:
We built and launched a Clubhouse coin bot that gates stage access. We can limit access to the stage based on $GARY coin holdings. This is done automatically through our SocialConnector oAuth. When a user raises their hand it automatically sends them a message to instruct them to authorize the connection and purchase the appropriate amount of coin to gain access to the stage.
Clubhouse Coin Balance Stats:
We have the balance of $GARY coin listed under each member in our audience that's enabled our oAuth. This allows for instant shout outs and access points in the clubhouse live social audio app.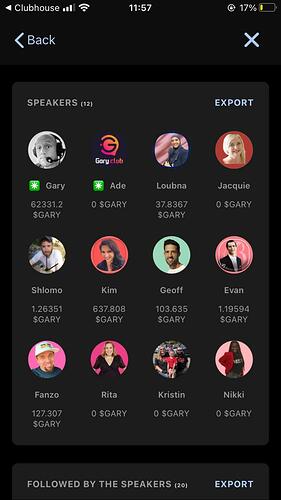 Hubspot CRM Integration:
With our integrations and authorizations, we are updating the current coin balances of all coin holders in our Hubspot CRM.
2021 Roadmap
Build our MVP's into creator tools allowing for unique coin bots on Clubhouse, Integrations into multiple CRM's, Gated Content, and social audio displays for all RLY creators
Future Goals
As a creator at Rally, I want to help the community grow. My intention is to continue to extend the functionality, integrations, and use cases to empower creators to build long-lasting relationships with their supporters through their owned CRM and Social Audio Channels.
This grant would help fund the innovation, testing, and quick rollout of our suite of SocialConnector tools prior to the end of 2021.
Rally Creator Access
As the functionality is tested and rolled out the services will be open to other creators through our SocialConnector tool.
The Ask
Based on the guidance of this forum post and recently, this proposal discussion, we are requesting a single grant of 500,000 RLY to fund the evolution of the above-mentioned tools to full creator utilization. The project will be complete prior to 12/31/2021.