The YDVs were the first feature Rally launched to Ethereum mainnet and have been an important part of early plans to distribute $RLY to supportive community members and start building a community treasury that could fund ongoing growth and development of the Rally Network. The core motivations for YDVs were:
Introduce the Rally project to the Ethereum DeFi community
Provide a fair distribution mechanism to start getting $RLY in the hands of contributing community members
Satisfy legal and regulatory concerns by enabling users to earn $RLY without buying them; eventually resulting in $RLY satisfying Coinbase Custody's regulatory review for supporting the governance token
Create a sustainable way in which contributors could support building a community treasury without taking on significant capital risk
I think they've largely performed as expected to date but the risk profile seems to be changing. We chose Yearn vaults for the yield delegation and $RLY distribution strategy because of the quality of their engineering team, the stability of their protocol, and our understanding of the level of risk associated with their yield generating strategies. As Yearn builds forward on their vaults and starts migrating to their v2 design, this risk profile starts to change substantially. The Yearn v2 design allows for more rapid iteration on strategies, dynamic rebalancing within a single vault in order to support multiple strategies simultaneously, and a general move towards capital efficiency and leverage possibilities. All of these are fantastic ideas and should continue to position Yearn as a leader in the DeFi space. However, they all also increase the risk profile of Yearn vaults in a way that makes them less compatible with the motivations behind the introduction of YDVs. And this is all exacerbated by the fact that one of the seemingly minor modifications supporting the v2 transition (temporarily dropping withdrawal fees from v1 vaults) opened the door to an exploit of one of Yearn's v1 vaults.
Perhaps most importantly, we no longer need to continue funding the treasury through YDVs as we conclude the first part of the Rally community fundraise. Community Treasury Fundraise Update… and Next Steps
With all of the above in mind, I'd like to start a discussion around retiring YDVs and reallocating the remainder of the $RLY previously reserved for YDVs to other distribution possibilities that support creators and Ethereum community members. I don't have a formal proposal in mind at this time; but I'm thinking that an outcome of this thread, if others feel the same way I do about YDVs, would be a subsequent proposal specifying how we'd like to reallocate the $RLY currently associated with YDVs.
One other related topic would be what to do about the current Liquidity Mining rewards for the Curve 3pool YDV. Currently, that stands as 13% of LM rewards, and is the 6th LM pool. I'd think we reallocate these token rewards to the Uniswap RLY/ETH pool, as we consistently overindex on Uniswap volume relative to its 35% rewards allocation. Here's stats from the week of February 2 to February 8.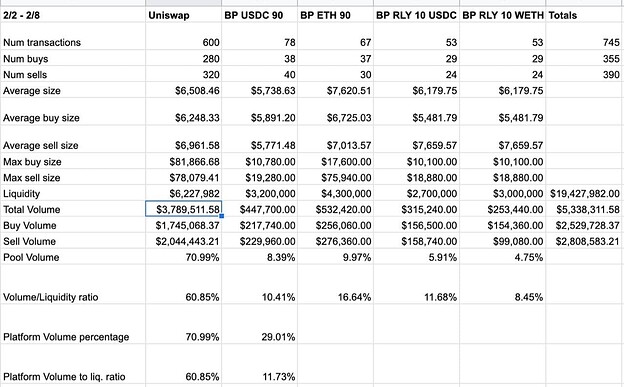 I propose we take this in 3 bite-sized steps:
Discussion of retiring YDVs, with a vote this week given the unknown potential for exploits in Yearn vaults
Reallocating Liquidity Mining rewards currently designated for Curve 3pool YDV to other Uniswap or Balancer pools
Discussion of reallocation of YDV rewards
Looking forward to hearing everyone's thoughts.