Hi Rally Community,
Since I was appointed to develop an international expansion strategy, I have been working with the Rally project team and community to assess regional and country-by-country opportunities for the platform to support creative communities in new territories. We believe expanding the project's international footprint will allow creators to build larger fan bases and position Rally as a global leader for new web3-enabled creative and community engagements.
Having evaluated the efforts that powered Rally's success to date, and the opportunities to stand up scalable extensions in new regions, we have made expansion in Asia our top priority, with other regions to follow.
Asia First
We believe the best opportunities for growth are in areas where there are large populations, vibrant cultures with strong creative forces, high levels of digital engagement and transactions, and regulatory environments that are favorable to the types of social tokens and NFTs we provide.
Asia offers all those opportunities. The region has two thirds of the world's population and a broad array of creative culture and digital ecosystems.
To further this mission, we have established ambitious goals for the remainder of this year:
● Create a separate and independent Asia business entity for regulatory and strategic reasons.
● Recruit a local team that truly understands the markets and can execute against the plan.
● Build an Asia focused version of the existing Rally.io product within Q4 2021, empowering regional creators to launch social tokens & NFTs in at least English and Chinese; with more languages to come.
● Secure iconic and trailblazing Asian creators with energetic fan communities to join the platform.
● Maintain world class payments, compliance and security with easy consumer on-ramps that accept local currencies.
● Scale Creator Partnership and Creator Success models for sustained growth.
Regional Strategy
Our Asia operating territories will grow to include:
● Hong Kong, Taiwan, Singapore
● Japan and Korea
● Philippines, Indonesia, Malaysia, Thailand and Vietnam
Compliance and Payment Structures
Crypto is an inherently global industry as digital assets know no borders. As a crypto platform, we must understand and adapt to local regulatory frameworks in each jurisdiction. With the aid of expert legal counsel, we will determine what is permissible in each market and proceed accordingly to safeguard the Rally network, our creators and their fans.
In Asia, the markets are very diverse – there are many different countries, cultures and regulatory stances. Some are more progressive about crypto, others are more conservative, so we will adapt to each market and be innovative but always remain compliant.
Outreach to Asian Creators
Asian creators we've had early discussions with typically share the same challenges as creators who have found Rally to be an incredibly valuable tool:
● They seek a secure, trustworthy engagement platform that will be safe for their fans.
● They want a monetization solution that integrates with their existing social, content and retail platforms but does not charge high fees on their transactions.
● They want to offer NFTs, not as a one off, but integrated into their communities in meaningful and sustainable ways.
Therefore, we are targeting creator verticals which attract a significant quantity of followers but also foster a high quality of engagement. It's critical to find communities with strong bonds of affinity that will readily adopt and utilize creator coins and NFTs into their activities.
Our outreach to creators is focused on these key categories:
● Music: Major label and independent artists; plus music festivals and event properties ● Gaming: E-sports competitors and streamers of popular PC and mobile titles.
● Sports: Teams and athletes from a variety of competitive and recreational sports
● Artists: Visual and digital artists, designers and photographers
● Video: Streaming video producers and film & TV talents across various genres
● Lifestyle: Icons and influencers who inspire their fans with fashion, beauty, travel and other lifestyle content
Our goal is to attract a solid roster of Asian creators and engage a significant portion of their fan community. We will pursue high profile celebrity creators from the start, as well as mid-tier creators who are notable in their respective category.
We will also pursue partnerships with agents, management companies, music labels, influencer networks (MCNs), esports organizations, and others that can drive groups of creators to join Rally.
Over time, we can refine our creator partnership approach, using more data to guide our targeting. Then we will broaden the scope to a wider array of creator categories and reach deeper into the mid-tier and emerging tier of talents while continuing outreach and support for high profile creators.
We will also build an inbound funnel structure to field interest from creators through a streamlined, efficient process where, upon approval, creators can essentially onboard themselves and begin using their coins and minting NFTs to share among their community.
Creator Success
Most creators and management teams do not have experience with the launch and growth of a creator coin & NFT ecosystem. In order to ensure success and growth of the creators' ecosystems, Rally will educate, guide and contribute funding toward collaborative marketing strategies, best practices and the promotional programming needed to excite fans and drive adoption of the creators' digital assets into the culture of their community.
This work involves operating a wide range of initiatives in collaboration with creators and their representatives. For higher level creators, that includes servicing the planning, project management, and creative development of creator coin and NFT activations. In time, a broader pool of creators can be supported with educational content, technical guides and a community knowledge base.
Platform Partnership
Many international creators reach their audience via the social, streaming and retail platforms which are popular in North America including Twitter, Discord, Facebook, Instagram, Youtube, Twitch, and Shopify. However, Rally must also work to integrate coin and NFT functionality with regional platforms which are important to Asian creators. Examples include:
● Weibo: Social media in Chinese
● Kumu: video streaming in the Philippines
● Shopee: retail across Southeast Asia
People Strategy
It's my pleasure to introduce Weiwei Geng who will be the head of the Rally business in Asia, driving the expansion of the platform into regional markets. Previously, he served as Managing Director China at Gen.G, a leading esports organization with top teams in China, South Korea, and the US. As one of the founding team members, Weiwei built the company's business in China from scratch, growing the revenue by over 10 times in less than 2 years.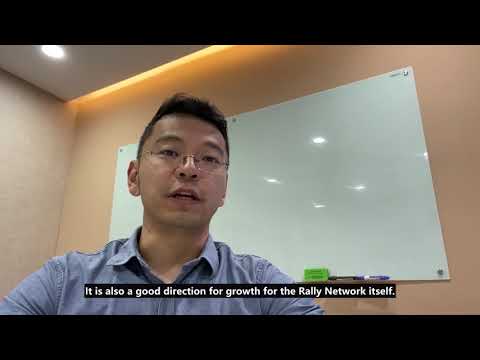 To be successful in Asia, we will need a local team who are savvy about creator needs and the opportunities for Rally to empower them. To that end, we have already identified and will hire and onboard impressive talents who have previously worked at companies like Google and Apple to fill key roles. They include:
● Head of Product
● Head of Engineering
● Development Team
● IT Director
● Head of Communications
We are currently recruiting:
● VP Finance
● Head of Creator Partnership
● Head of Creator Success
● Creative Planning Director
● Payments Operations Manager
Agencies have been identified and evaluated for:
● PR/Publicity
● Corp. Marketing & Branding
● Creator Marketing and Promotion
Next Steps
In conjunction with the core team, Weiwei and I are forming a Go-to-Market plan and budget to shape the Asia business. In a future update, we will be able to share a detailed time path and budget proposal to the community that will enable us to:
● Research and analyze creator economies, platforms and trends across Asia
● Develop Rally's Asia platform branding and identity and foundational marketing approach
● Build publicity & PR strength to reach creators, fans and the robust crypto community in Asia
● Set launch strategies and plans for specific Asia markets and creator categories
Additionally, I will be sharing with the community further thoughts on development strategies, partnerships and plans for other global regions:
● Indian subcontinent
● EMEA
● Australia & New Zealand
● Latin America
Community Call
I will be reviewing these updates and more on our international plans during the upcoming community call on August 6th. I look forward to sharing that with you all and discussing any questions or ideas you may have.